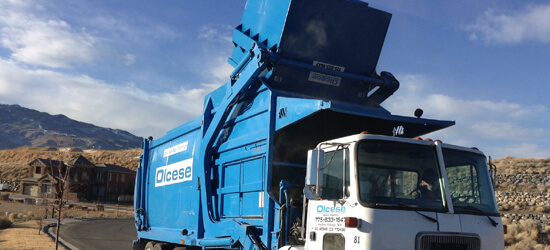 Waste Management, Recycling & Demolition – Your Local Experts
Founded in 1997, Olcese Waste Services is the premier waste management, demolition, and solid waste contractor serving both California and Nevada
We know our business inside-out, saving you time and money on your projects without cutting corners.
Unlike other companies in the industry, we've been around through good times and bad, and we stand by our work.
Why? It comes down to the good name of the man behind the business…
Why You Need to Know
TILLIO OLCESE
Olcese Waste Services isn't your typical, faceless corporation. We're proud to be an owner-operated company – and by that we mean that you'll likely talk to Tillio himself when making major project decisions. You'll even see him in the trenches working right alongside his employees.
This difference has huge implications for your business…
Straightforward, quality work – our business relies on the good name of our owner, so we don't do shoddy work or take shortcuts that can come back to bite you later.
You're working with a true expert – Tillio has been involved in all aspects of the business from the start. He'll help you customize a plan that makes the most sense for your business goals.
No excuses – we've been around through boom and bust in the industry, and you know we'll continue to be here backing our work. You'll see Tillio working among his own crews to ensure quality projects from the ground up.
WE STARTED WITH HOGS
… and What That Means for YOUR Bottom Line
Starting from the humble roots of feeding wet garbage to hogs, Tillio Sr. saw the growing need for comprehensive waste management solutions and got into the garbage business in 1971.
Continuing in the same line, Tillio Jr. started a successful snow removal business in Incline Village, NV. From there, he moved on to get his contractor licenses for Nevada and California, then added demolition, recycling, and waste management services to his operations.
Every step of the way, Tillio acquired the expertise and equipment necessary to execute your projects more efficiently than other companies.
Read on to find out how this expertise can access to equipment can boost your bottom line.
Accelerate Your Project Schedule & Prevent Costly Delays
Since we own all our own equipment and have our own maintenance personnel, we control our own schedule.
No waiting for equipment rentals to become available or to get back from the shop.
Streamline Your Project Workflow
Our experience in demolition, excavation, and waste stream management is both broad and deep. This enables us to:
Create custom plans that help you achieve your business objectives
Coordinate with your other contractors to shave off weeks of wasted time
Maximize savings and benefits from recycling
Contact us today to meet the team and receive a quote on your custom project!