Digester Cleaning, Pond Cleaning, and Dewatering
Keep Your Wastewater Treatment Facility Operating at Peak Capacity
Olcese Construction offers wastewater digester cleaning, pond cleaning, and dewatering services with our mobile dewatering press.
Our fleet of trucks, dewatering press, pumps, hoses, support vehicles, and – most importantly – our safety oriented, well-trained crew enables us to provide service nationwide. Our equipment is CARB (California Air Resource Board) compliant.
Leave it to our experienced crew to  safely clean and dewater facilities, removing grit and debris from your digester.
Emergency Service Available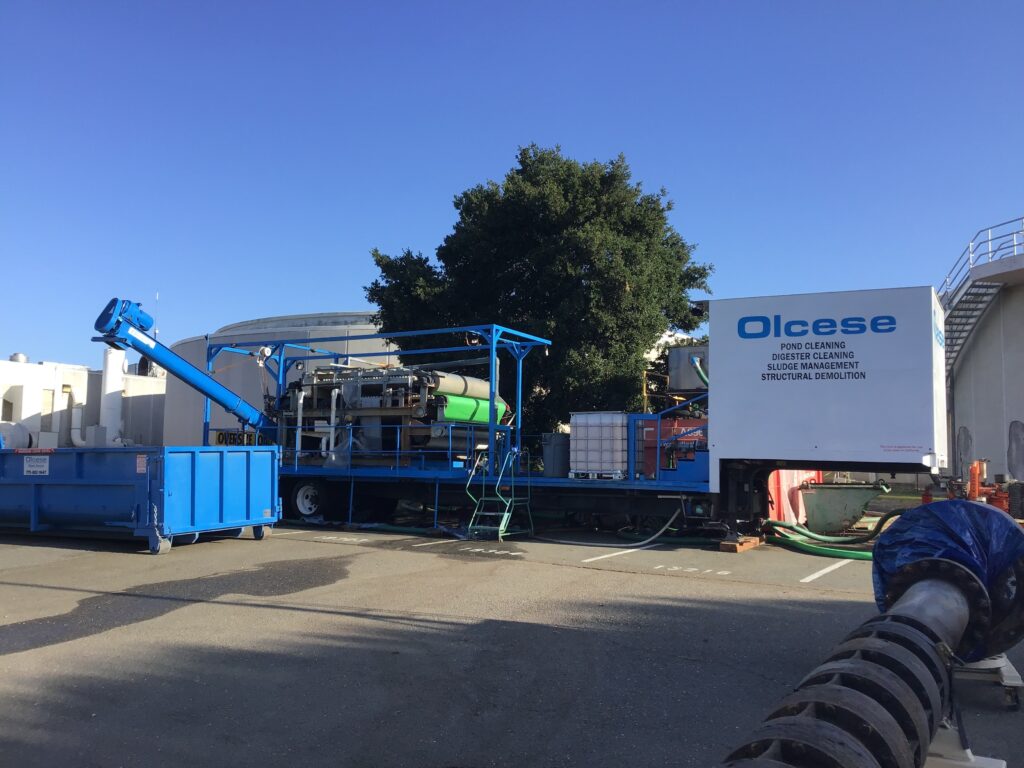 Tips to Limit Downtime and ensure smooth cleaning at your water treatment Facility:
Temperature needs to be above 40 degrees fahrenheit for maximum efficiency. Hoses, pumps, and press become inoperable at freezing temperatures.
The press requires ample power to operate 480 3-phase and requires a fair amount of rinse water (225 gallons per minute). Generators are available at an extra cost.
Ample lay down area – our dewatering press and support equipment needs to be on a flat surface to operate. The slightest incline makes the dewatering press unable to operate efficiently.
Providing us with analytical data on the sludge that needs to be processed enables us to order the correct polymer to operate the press at maximum efficiency and save you downtime and money.
Schedule your digester cleaning, pond cleaning, and dewatering with us today.